Curly hair is more challenging to maintain since, in contrast to straight hair, it frequently lacks moisture and dries out quickly. Your hair follicles have an impact on how curly your hair is. More oval or asymmetrical follicles are more common in people with curly hair. Of course, your genetics have a role in this. Below are 10 tips to maintain curly hair that you need for keeping your hair healthy if you want to give your natural curls more bounce and shine.
1. Find a Curly Hair Routine That Works for You
The tools and methods you employ will be greatly influenced by the kind of curls you have. You'll need thicker, more moisturizing creams and gels to take care of your curls because tighter spirals are typically drier, denser, and more prone to breaking than delicate waves. Contrarily, women with wavy hair should avoid using heavy products that can weigh hair down and cause it to become limp, lifeless, and greasy. Learn about your particular type of curly hair, and don't be hesitant to experiment with new items and methods that have been suggested for you.
You might come upon a style solution that is the answer to all your problems, or you might discover that layering a few different products produces the best results.
2. Only wash your hair when needed
Too much washing can make curly hair dry, frizzy, and difficult to manage. Thick, curly hair doesn't require daily or even weekly washing. For the best possible health of your scalp and hair, you should wash your hair at least every two to three weeks. Washing your hair in portions will help prevent damage or tangling if it is long or thick. Pick a hydrating shampoo designed specifically for curly hair. If you frequently use gels, oils, creams, or pomades to style your hair, you might want to use a clarifying shampoo first, followed by the moisturizing shampoo. Use a shower cap when taking a bath to protect your hair in between washes.
3. Keep your hair moisturized
Compared to other hair varieties, curly hair is drier. To maintain curly hair, condition the entire head of hair, not just the ends, to keep it hydrated. After washing your hair, apply a heavy conditioner. After you've completed washing and conditioning your hair, add oil or leave-in conditioner to help with moisturization. You can also use conditioner prior to shampooing your hair if your hair is really dry or if you struggle to detangle it.
Due to their tendency to be dry, curly hair types frequently demand significantly more moisture. A weekly hair mask can help repair surface damage to curly hair, removing frizz and restoring it to healthy-looking hair in addition to your daily conditioners and leave-in conditioning sprays.
4.
Detangle Gently
With a wide-toothed comb and lots of nourishing leave-in conditioner, gently detangle your hair. Gently comb through knots and separate curls as you move up from the ends to the roots. Curly hair is simple to knot. Wet your hair completely, add a leave-in conditioner, and then use your fingers or a wide-toothed comb or brush made for curly or coily hair to detangle between washes.
To make untangling simpler, work in portions. To keep your hair from breaking and frizzing, avoid brushing it when it's dry. Don't forget to untangle your hair when you're washing it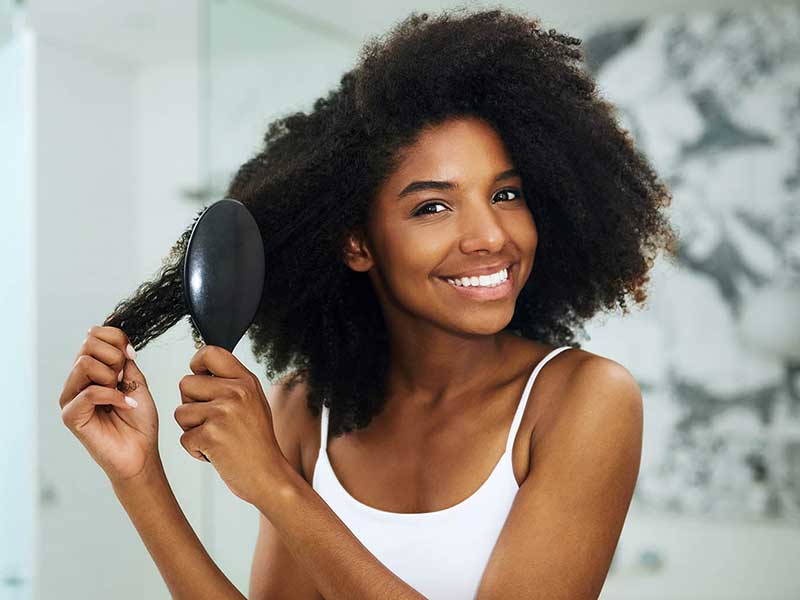 5. Take care of your scalp
Because of the excessive oil production on your scalp, dandruff may develop if you wait a long time to wash your hair. But dandruff shampoo might make your hair dry. Only the scalp should receive anti-dandruff shampoo, which should then be left on for 2–10 minutes, or as long the label directs, before being rinsed out. The rest of your hair should then be washed with a hydrating shampoo. A board-certified dermatologist might also recommend medication to be used topically to your
6. Protect your curls from the sun
Curly hair can become dried out by heat and the sun's harmful UV rays. Wear a hat with a wide brim and keep your hair hydrated.
Should I get bangs? Top things to know before having bangs
7. Using Curling Iron or a No-Heat Curling Technique

Hair with waves can be challenging. It's neither completely straight nor curly. By scrunching in a curl-enhancing mousse or misting them with a texturizing sea salt spray, you may help those waves out a little. Then, use a curling iron or a no-heat technique like pin-curling to spot treat any flat or uneven sections.
8. Use a Diffuser or Air Dry Your Hair
It's usually preferable to avoid using heat on curly hair and rely only on cosmetics to style it. Turn the heat to the lowest setting if you must blow-dry right away and use a diffuser to reduce friction.
9. Start Styling When Hair Is Wet
Many curly haired girls' style gels, sprays, mousses, and other products are made to work on damp hair. As they smooth, define, and condition the hair strands for touchably soft curls, they are designed to penetrate deeply into the hair fibers.
10. Care for your hair while you sleep
To maintain curly hair and lessen friction on your pillowcase, which can make your hair frizzy and more prone to breakage, you can, if you are able, put your hair into a loose ponytail on top of your head or a loose braid before bed.
Do not give up if a particular product does not work for your hair type because finding the perfect routine for curly or tightly coiled hair frequently requires trial and error. Make an appointment to see a board-certified dermatologist if you have any questions about how to care for thick, curly hair.