It can get a little hairy trying to keep hair covered while you're sleeping. You understand the challenge if you've ever woken up with your hair matted, tangled, or twisted up in a frizz ball. Not properly securing it while sleeping might result in more than simply a horrible hair day. Your sleeping patterns may eventually cause damage to your hair and other things.
Let's cover the basics of sleeping with hair. No matter your hair type and whether it's color-treated or chemically straightened, you'll find some tips on how to protect hair while sleeping.
Brush your hair before bed
Think about including a different type of brushing into your sleep routine. You may prevent frizz and matted hair by brushing out tangles or snarls from your hair before you go to bed. There is some validity to the idea that brushing your hair the night before works best the following day. It doesn't have to take a lot of time. Depending on your hair type, you can brush out your hair with a basic comb before styling it for the evening and going to bed.
Use a silk or satin pillowcase
Your hair is rubbing against the thread fibers in your pillow every time you move in bed if you have a tendency to toss and turn. Your hair may become stressed as a result and frizz. In the end, it can even result in breaking. The amount of friction on your hair as you sleep may be decreased by using a pillowcase made of silk or satin. Additionally, these pillowcases may lessen your skin's stretch and stress when you sleep, assisting in the prevention of wrinkles brought on by age. If you're thinking about spending money on a high-quality pillowcase, satin and silk are cooling and hypoallergenic fibers as contrasted to cotton.
Wrap your hair in a scarf or wrap
If you wear a hair wrap or scarf, you won't have to worry about crushing or denting your freshly styled hair. You might opt to use a silk or satin material depending on the type of hair you have to further prevent friction while you sleep. You may also prevent sweat or humidity from making your hair frizzy by gently wrapping your hair and tucking any loose parts away from your neck.
If you want to have smooth, straight hair when you wake up, sleeping with your hair wrapped is the ideal option. Your wrapped hair will be even more secure and the impact of straightening will be improved by adding long bobby pins. When you get up, brush your hair so that you are prepared for the day.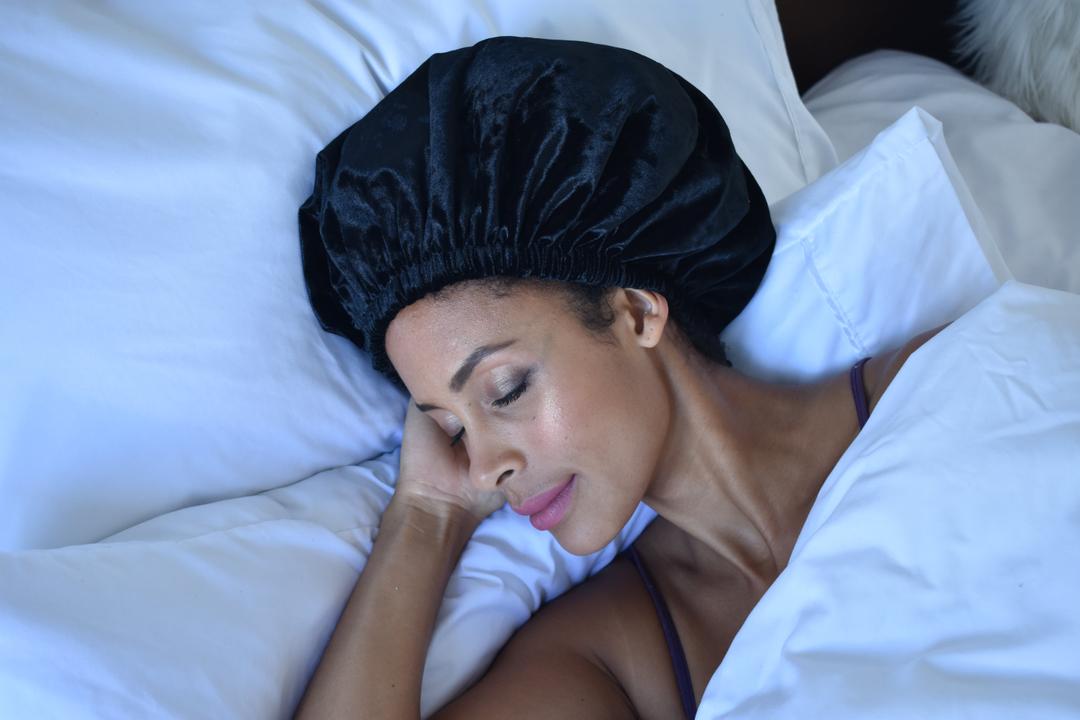 How to take care of hair extensions and make it last longer?
Switch to scrunchies
The usual solution for fixing your hair for the evening is an elastic hairband. However, because they pull your hair back, these elastics can damage your hair and scalp. Friction leads to breakage and frizz. Similar like dozing off with a rubber band on your hair. Instead, use a fabric scrunchie made of, you guessed it, silk or satin to tie hair back into a top knot. Your hair will get a break from the friction as a result. You'll save time styling your hair in the morning since you'll be less likely to wake up with a noticeable "dent" in your hair where you pulled it back.
Protect ends with an essential oil
The majority of damage that occurs as you sleep may be concentrated on the ends of your hair. Even if you lie on your back when you sleep, you could accidentally crush longer hair. Applying aromatic oils before night will help protect your ends. Good places to start include argan oil, almond oil, jojoba oil, and even coconut oil.
Put your hair up in a braid or a scrunchie made of fabric, and then warm a few drops of the oil between your palms by rubbing them together. You simply require a tiny amount. Apply the oil to your hair, paying particular attention to the ends. This can shield your hair from irritation and stop split ends in their tracks.
Condition your hair while you sleep
Just because your hair should be dry when you sleep, doesn't mean it should be drying out and dehydrated when you wake up. If you wake up often with hair that's frizzy and hard to tame, a leave-in conditioner may be the answer. Before styling and securing your hair for the night, a spritz or two of leave-in conditioner with protein or keratin may actually strengthen your strands while you snooze.
The best leave-in conditioner will vary depending on your hair type. Hair that's prone to drying out will thrive with a leave-in conditioner that hydrates. Hair that tends to be oily might benefit from a leave-in that's a lighter formula with botanical extracts and not a lot of other extras. Formulas that come in a spray bottle and are meant to be applied to dry hair are your best bet.
Use a hair serum or hair mask
While you sleep, a hair mask that is suitable for overnight usage or a lightweight hair serum can both help control frizz. Remember that you shouldn't use any product that you use overnight to make your hair wet or enlarge the hair follicles. You only want to add and seal in moisture, not make your hair heavier or more frizzy.
Avoid using anything that contains an acidic ingredient on your hair for longer than six hours, such as citric acid or apple cider vinegar.
Additionally, stay away from high-protein foods like eggs, which can weigh down your hair and increase the likelihood of breakage. Use mild botanicals (such aloe vera or peppermint oil) to seal in shine, stimulate your scalp, and make morning detangling simpler.
Incorporate a humidifier or a fan into your bedroom.
We sincerely hope that these pointers will help you get luscious locks during your morning routine!