You don't need to be born with naturally thick hair to have great hair. Anyone may achieve their ideal look thanks to the magic of wigs; all it takes is choosing the proper kinds of wigs for your particular needs and fashion preferences. That's easier said than done, though, given the wide variety of wig styles available. So we're here to help you understand more about them as well as choose the best suitable types of wig for yourself. Find the best style and type of wig that will perfectly complement your skin tone, face shape, and purposes by learning about the various wig types available. Keep scrolling to read the 4 types of wig that you should know!
1. The 4 types of wig
Lace Wigs (Full Lace and Lace Front)
Among all the types of wig, lace wigs are one of the most popular options. When you wear one of these wigs, the translucent mesh "lace" base will help it match the color of your scalp. Individually linked to the sheer lace material, the wig's hair fibers provide a more realistic appearance and movement than actual hair. You can select between lace front wigs and full lace wigs when purchasing lace wigs.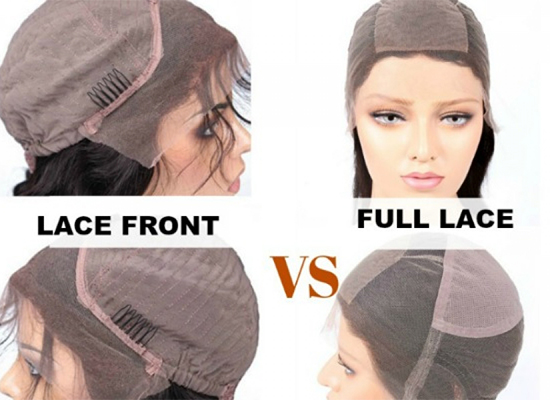 Lace front wigs have a simple wig cap with sheer lace around the forehead that ranges in thickness from 1.5″ to 3″. In order to create a natural, progressive hairline that doesn't look thick or unnatural, individual wig hair fibers are hand-tied to the front lace area. For women who enjoy wearing their hair down and experimenting with center and side portions without revealing the edges of the wig, lace front wigs are fantastic. 
Full lace wigs are more expensive than lace front wigs but have the most realistic appearance and style options. In a full lace wig, the entire wig base is covered in sheer lace. As a result, you can separate your hair anyway you choose or pull it back into a high ponytail without showing the wig's foundation. Women who enjoy a wide range of haircuts (up and down) and want the most natural appearance may choose for full lace wigs.
Pros
Very natural appearance

Allows you to part and style hair off the face due to natural hairline

Makes high ponytails and updos possible (full lace)

Lightweight, breathable, and comfortable wear
Cons
More expensive than basic capless wigs

Fragile lace material requires careful handling and maintenance

Some lace wigs may require customization before wear

Can be difficult to remove lace tape or adhesive residue
Monofilament Wigs
Although monofilament wigs and lace wigs are similar, there are some significant variances. To replicate the way hair develops from the scalp naturally, monofilament wigs bind each individual hair fiber to the wig base. 100% hand-tied hair fibers are possible, or the wig may have a hand-tied top or crown section. The monofilament wig base material is thin, sheer, and gauze-like, just like lace wigs, yet it is far more resilient than lace. There are typically fewer hairs connected to monofilament wigs than other varieties because each hair strand is hand-tied.
This is excellent if you want to experiment with sleek haircuts on your wig, but it's less advantageous if you want voluminous, thick hairstyles.  You can choose from single monofilament, double monofilament, or more affordable combination wigs with a monofilament top, crown, or part. 
Pros
Natural movement due it is individually tied rather than mounted in wefts.
Be parted in either direction and the look is natural and closely resembles biological hair
More lightweight due to the density of hair fiber is less
Softer Feel
Combination Wigs
Combination wigs feature machine-sewn wefts (sections or strips of wig hair fibers) in combination with strategically-placed hand-tied hair fibers for a more affordable alternative to 100% hand-tied wigs. Combination wigs use machine-sewn wefts to fill most of the space on the less-visible back and sides of the wig. Only the most visible areas – usually the top, crown, or sections along common part lines – are hand-tied to give that natural look and effect.  With fewer hand-tied fibers in the wig, the manufacturing process is less time-consuming and labor-intensive for a combination wig versus a full monofilament wig. This makes combination wigs a more affordable alternative to monofilament wigs, but you still get the benefit of a natural-looking part and realistic hair movement. 
Unlike a 100% hand-tied monofilament wig, combination wigs are not suited for updo hairstyles because they don't feature hand-tied hair fibers in the back and sides. The machine-sewn weft strips in those areas look fine when the hair is down, but would make your wig obvious if the hair was worn up.  
Wishing everyone a good week, and a new week to brighten it! Thanks for reading!