Are you seeking to elevate your client's hairstyle to new heights? Rock Bold bangs are the perfect way to add an edgy and captivating element to their look. In this blog post, we will guide you through the process of achieving stunning bold bangs with the help of BigG Hair extensions. Whether you're a salon professional or an individual looking for a change, this step-by-step guide will ensure you achieve a flawless style
Why Choose Bold Bangs?
In the 1920s, during the iconic era known as the Roaring Twenties, bold and blunt-cut bangs became a defining hairstyle trend. Women embraced short bobs and cropped hairstyles, often accompanied by striking bold bangs, as a symbol of liberation and the breaking of traditional beauty norms.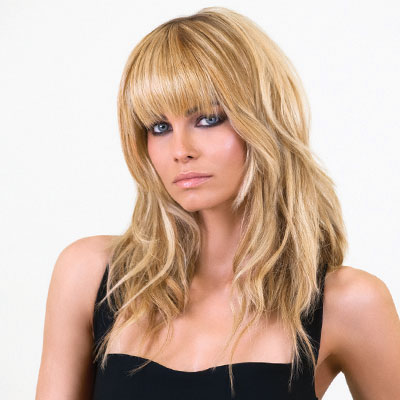 Today, bold bangs remain a coveted hairstyle choice, gracing red carpets, runways, and everyday life. With the help of BigG Hair extensions, you can empower your clients to embrace this iconic style and enjoy the versatility and confidence that bold bangs bring to their overall look.
Step-by-step guide Rock Bold Bangs
Time needed: 30 minutes
Now, let's dive into the step-by-step process of creating stunning bold bangs with BigG Hair extensions:
Step 1

Before


Step 2

Begin by curling random sections of both the client's natural hair and the 20 inch BigG clip-in extensions.


Step 3

Separate the hair just below the crown in a horse-shoe shape and clip up the top section. Take two BigG extensions and clip them in one on top of the other, ensuring they are securely attached. Remove the top clip of the extensions and blend the hair


Step 4

Attach BigG Clip-In Bangs at the desired location on the forehead.


Step 5

To achieve a shaggy and layered look for the bangs, carefully cut them using a razor.


Step 6

Complete the look

Frequently asked questions Bold Bangs
1. Can I achieve bold bangs with BigG Hair extensions if I have thin hair?
Absolutely! BigG Hair extensions are designed to add volume and thickness to all hair types, including thin hair. By strategically placing and blending the extensions, you can achieve the desired fullness and achieve stunning bold bangs.
2. Can I style my bold bangs with heat tools?
Yes, you can style your bold bangs with heat tools such as curling irons or straighteners. However, it's essential to use heat protectant products before applying any heat to your hair to minimize damage and maintain the integrity of both your natural hair and the extensions.
3. Can I use BigG Hair extensions for other hairstyles besides bold bangs?
Yes, BigG Hair extensions are versatile and can be used for various hairstyles, including adding volume and length to updos, ponytails, braids, and more.
4. Will wearing BigG Hair extensions and bold bangs feel uncomfortable or heavy?
No, BigG Hair extensions are designed to be lightweight and blend seamlessly with your natural hair. Professional application techniques ensure that the extensions are securely attached and distributed evenly, resulting in a comfortable and natural-feeling hairstyle.
5. Can I exercise or participate in physical activities with BigG Hair extensions and bold bangs?
Yes, you can participate in physical activities, including exercise, sports, and outdoor activities. However, it's important to secure your hair and extensions properly to prevent tangling or damage during intense movements.
Conclusion
Bold bangs can elevate your client's style and give them a confident and fashion-forward look. By following the step-by-step guide above and using high-quality BigG Hair extensions, you can create stunning bold bangs that perfectly suit your client's desired look. Contact BigG Hair today and offer your clients the latest trends.
Read more