As a trader in the hair extensions field, you may not be familiar with Alibaba's e-commerce site. However, finding hair vendors online can sometimes be a daunting task, and not everyone knows how to find the best hair supplier on it. Therefore, let's learn from this blog post to gather more useful information about the best alibaba hair vendors for your business.
1. Why Alibaba is considered a reliable place to find hair vendors
Alibaba is an e-commerce site that provides a trading platform for manufacturers and wholesalers in China to transact with individuals and businesses around the world. It is often considered a reliable place to find hair vendors for several reasons:
Wide Range of Suppliers: Alibaba is one of the largest online marketplaces in the world, connecting buyers and suppliers from various industries. They have a vast number of hair vendors, including manufacturers, wholesalers, and distributors. This wide range of suppliers increases your chances of finding a reliable hair vendor that meets your specific requirements.
Supplier Verification: Alibaba has a system to validate the credibility of its suppliers. They have different levels of verification, such as Gold Supplier and Assessed Supplier, which indicate that the supplier has undergone a verification process by Alibaba.
Supplier Ratings and Reviews: Alibaba allows buyers to rate and review suppliers based on the quality of their products and service. These ratings and reviews can help you assess the reputation and reliability of the best alibaba hair vendors before making a purchase. It provides transparency and allows you to make informed decisions based on the experiences of other buyers.
Trade Assurance: Alibaba offers protection to buyers by providing a refund in case of non-compliance with the agreed-upon terms or if the product quality is not as described. This program helps mitigate risks and give the buyer assurance when buying.
Communication and Negotiation: Alibaba's platform provides communication tools that allow you to directly interact with hair vendors. You can ask questions, negotiate prices, and discuss specific requirements with potential suppliers. This direct communication enables you to have a better understanding of the vendor's capabilities and responsiveness.
While Alibaba offers several benefits for finding hair vendors, it is important to exercise due diligence and conduct thorough research before conducting any transactions.
2. Factors to consider when choosing the best alibaba hair vendors
When choosing a hair vendor, there are several important factors you need to consider. These factors will help you assess the vendor's reliability, product quality, and suitability for your specific needs. Here are some key factors to consider:
Reputation and Experience: You can evaluate the reputation of hair vendors through their ratings and customer reviews or Gold Supplier or Trade Assurance on Alibaba. Companies with high store ratings will generally be considered more reliable than those with lower ratings.
However, some ratings can be subjective, and there is a possibility of being fake. So it is advisable to consider multiple factors, such as reviews from verified buyers and conducting additional research, to make a more informed decision about trusting the best alibaba hair vendors
Product Quality: Assess the quality of the vendor's hair products. Look for details such as the source of the hair, and any additional certifications they may have. Most hair wholesalers in Alibaba offer samples that you can request to evaluate the hair quality of the brand that you attend to buy.
Communication and Responsiveness: If the supplier is prompt in answering your queries and addressing your concerns, it could be a reliable vendor for your business.
Pricing and Minimum Order Quantities: Compare the pricing of hair products among different vendors. While affordability is prioritized, you need to be cautious of excessively low prices, as they may indicate lower quality. Additionally, check if there are any minimum order quantities required and if they align with your needs.
Customization and Flexibility: If you have specific customization needs, check if the vendor offers customization services. Assess their willingness to accommodate your specific requirements and any associated costs or limitations.
By carefully considering these factors, you can make an informed decision when choosing a hair vendor that aligns with your quality expectations, budget, and specific requirements
3. The best Alibaba hair vendors
If you don't know how to find reliable hair vendors to purchase from, here are some suggestions for you to consider:
2.1 BigG Hair
If you are looking for hair extensions sourced from Vietnamese women, BigG Hair is an option for you. They have significant partnerships with numerous wholesalers, hair salons, and retailers around the world. With over 10 years of experience in the hair extensions field, their direct factory is dedicated to offering customers high-quality products at competitive prices.
Product: They offer weft, lace wigs, closure/frontal, flat-tip, and clip-in hair extensions in two main lines: luxury and premium luxury. All of their products are made from virgin hair sourced from a single donor, resulting in a smooth, silky, and healthy texture.
Besides, they offer ODM and OEM options that allow you to customize the product. Additionally, BigG has built an ecosystem that supports their customers in every aspect of the business.
Customer review: Their hair extensions are highly valued for their high-quality and are made entirely of human hair, with no odor. They can be dyed with any color without causing damage.
Pricing: Their retail product has a price range that fluctuates around $65.
Return policy: They allow you to exchange and return, ensuring customer satisfaction and peace of mind.
If you want a supply of high-quality hair extensions for your business at a competitive price or if you want to create a product that bears the unique stamp of your enterprise, you can choose BigG as a reliable partner.
Link Alibaba: https://bigghair.trustpass.alibaba.com/
2.2 New Times Hair
New Times Hair is a manufacturer and distributor of hair extensions that come from China. After growing for over 10 years, they have become a leading supplier to human hair wig distributors in Europe, North America, the Middle East, India, and especially in the US.
Product: Their main products include tape-ins, keratin fusions, wefts, clip-ins, halos, and bulk hair extensions with a variety of lengths and textures. One of the highlights of New Times Hair is that, in addition to women's hair extensions, they also offer toupees products for men. Besides, they offer logo and packaging customization services with a min order of 1000 pieces.
Pricing: Their prices are evaluated as quite affordable. They depend on the type and quantity of the order. The more you buy, the more discounts you will enjoy.
Customer service: Quick response time within 4h and an on-time delivery rate reaches 95%
Ratings & Reviews: Their store rating on Alibaba is 4.9/5 stars, an impressive number that indicates high customer satisfaction with their products and customer service.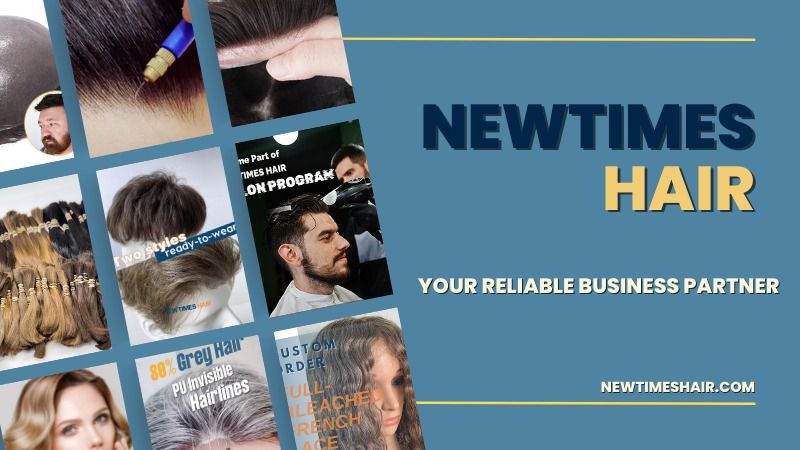 Link Alibaba: https://www.alibaba.com/showroom/new-times-hair.html
2.3 Qingdao Haiyi Hair
This is a renowned hair factory in China, recognized as one of the best alibaba hair vendors. With over 20 years of experience and a stellar reputation among consumers, they offer a wide range of hair extensions to cater to various preferences.
Product: Their main product offerings include pre-bonded hair extensions and full hair wigs made from high-quality raw materials such as Brazilian hair, Peruvian hair, Indian hair, Malaysian hair, and Indonesian hair.
Pricing: In terms of pricing, Qingdao Haiyi Hair Factory provides a range of options, with prices ranging from $22 to $389.
Customer review: Their store score on Alibaba stands at an impressive 4.8 out of 5, reflecting the satisfaction of their customers.
Additionally, Qingdao Haiyi Hair Factory has a policy in place that allows for exchanges and returns, providing customers with flexibility and peace of mind.
Link Alibaba: https://haiyihair.en.alibaba.com/
2.4 Guangzhou Kabeil
Guangzhou Kabeil is recognized as one of the best hair vendors on alibaba and stands out for its extensive range of attractive and high-quality products. With over 11 years of experience, Kabeilu has established itself as a reputable and trusted supplier in the industry.
Product: Their product offerings include raw hair, tape extensions, lace closures, and hair wigs, catering to a diverse range of customer preferences.
Pricing: In terms of pricing, Kabeilu offers competitive options, with prices ranging from $20 to $208, providing customers with choices to suit their budgets.
Customer review: With a store score of 4.6 out of 5 on Alibaba, Kabeilu has gained positive recognition for their products and service.
Return: Kabeilu also has a customer-friendly policy in place that allows for exchanges and returns, ensuring customer satisfaction and peace of mind.
Link Alibaba: https://kabeilu.en.alibaba.com/
Overall, due to its combination of high-quality products, attractive designs, and reasonable prices, Kabeilu is highly regarded by clients as one of the greatest hair factories in China.
2.5 LeShine
LeShine is highly regarded as one of the leading hair factories in China due to its exceptional quality and competitive prices.
Product: With a wide range of products such as clip-in extensions, tape-in extensions, pre-bonded hair, and hair wefts, LeShine caters to various customer needs.
Pricing: One of the advantages of LeShine is its price range, which starts from $3 and goes up to $190. This allows customers with different budgets to find suitable options within their price range.
Customer review: Another positive aspect of LeShine is its store score on Alibaba, which stands at 4.8 out of 5. This high score indicates that the majority of customers have been satisfied with their purchases and have had positive experiences with the company.
Return: LeShine has a policy of accepting returns and exchanges. This provides customers with a sense of security and ensures that they can resolve any issues that may arise with their orders.
Link Alibaba: https://leshinehair.en.alibaba.com/
In conclusion
Buy that useful information, we hope you can get information that can help you in finding best alibaba hair vendors. If you are a new business or simply want to update more knowledge about hair extension files, don't forget to assess our BigG Hair website frequently. Wishing your business will continue to thrive even more in the future, and always choose BigG as a reliable companion throughout your journey.
Read more :