When it comes to hair transformations, nothing can beat the convenience and versatility of clip-in hair extensions. They offer a convenient and versatile way to achieve stunning results without the commitment of permanent alterations. With BigG's 7-piece clip-in human hair extensions, creating length and volume has never been simpler or faster.
In this blog post, we'll explore the world of clip-in hair extensions, provide effective application techniques, and introduce you to BigG Hair, your go-to source for top-quality extensions.
Why Choose BigG's Clip-In Hair Extensions?
BigG's clip-in hair extensions offer a range of benefits that set us apart from other options in the market. Here are the key benefits to consider:
Premium Quality
The clip-in hair extensions from BigG are made from 100% Remy human hair, which is known for its exceptional quality as the cuticles are intact and aligned in the same direction, ensuring a natural look and feel. The extensions are crafted with attention to detail, providing a soft, silky texture and a seamless blend with your natural hair.
Wide Range of Options
BigG offers a diverse range of clip-in hair extensions, allowing you to find the perfect match for your client's hair type, color, and desired style. You can choose from different lengths, colors, and textures to achieve a customized and natural look.
What sets BigG apart is our commitment to customization. Not only can you select the ideal clip-in hair extension set, but we also offer the flexibility to customize each individual clip and piece on the clip to meet your client's specific needs.
Versatility in Styling
With BigG's clip-in hair extensions, you can unleash your creativity and explore a wide range of hairstyles. The added length and volume provided by the extensions allow you to experiment with various styles, including updos, curls, braids, and sleek straight looks.
Durability and Longevity
BigG's clip-in hair extensions are built to last. The premium quality materials and careful construction ensure durability and longevity. With proper care and maintenance, these extensions can be reused multiple times, allowing you to enjoy their benefits over an extended period. The investment in BigG's clip-in hair extensions proves to be cost-effective in the long run.
How to apply Clip-in extensions
Time needed: 30 minutes
Here is a general guideline for how to section and position the extensions with 7 pieces of BigG's Clip-In hair extensions
Step 1

Start by gathering and detangling the hair. Use a rat-tail comb to create an ear-to-ear part in the nape area. Secure the remaining hair with a duckbill clip.


Step 2

Select a weft from your clip-in hair extensions that matches the size of the part you created. Open the pressure-sensitive comb clip and carefully secure it in place by gently combing it onto the hair and snapping it in.


Step 3

Gather the hair again and create another ear-to-ear part, making sure to stay close to the previous section. If you are using fewer pieces of extensions, you can take larger sections of hair.


Step 4

Repeat the process of selecting a weft and securing it in place by combing it onto the hair and snapping it in. Work your way up to the crown of the head, following the ear-to-ear parting technique.


Step 5

It's important to maintain a balanced look. If you are using a smaller weft in a wide section, alternate between the left and right sides when moving to the next section to keep the overall appearance symmetrical.


Step 6

As you progress toward the front of the head, use the smaller hair pieces from your clip-in set. Always ensure that the weft is placed about two fingers away from the hairline. Create horizontal side sections above the ears and add in the smaller wefts accordingly.


Step 7

When you reach the top of the head, leave enough of the client's natural hair around the natural part to effectively conceal the wefts once the hair is styled. To blend the client's hair with the extensions, gently brush and style the hair together.


Step 8

Once you have completed the application and styling process, take a moment to ensure that the extensions are securely in place and that the overall look is seamless and natural.

By following these clarified steps, you can confidently apply clip-in hair extensions and offer your clients effortless yet fashionable hairstyles.
Before and after use clip-in human hair extensions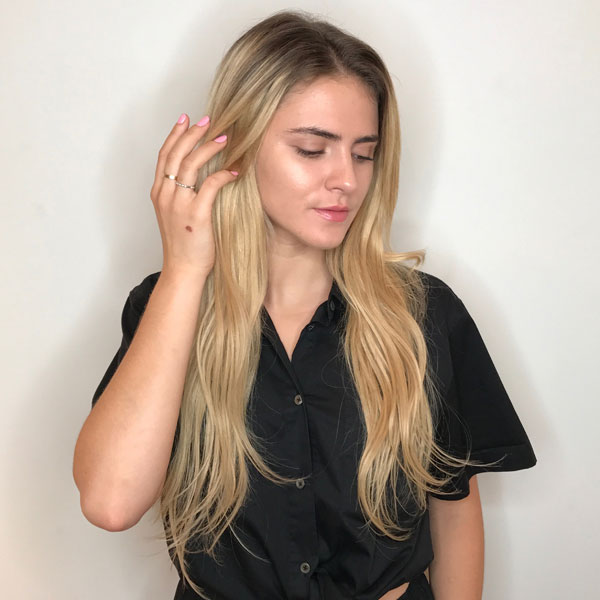 Conclusion
Clip-in hair extensions from BigG Hair are the perfect solution for quick and non-permanent hair transformations. With the 7-piece human hair extension set, you can effortlessly add length and volume to your client's hair, providing a temporary change that can be easily adjusted or removed.
The convenience, versatility, and premium quality of BigG Hair's extensions make them a must-have for every salon professional. Elevate your client's hairstyles with BigG Hair today!
Read more