Corporate culture plays a vital role in shaping the identity and success of an organization. BigG Hair prides itself on a vibrant corporate culture that fosters happiness, collaboration, and personal growth.
Happy Time: Nurturing a Positive Work Environment
At BigG Hair, we prioritize the well-being of our team above all else. We firmly believe that a happy and healthy workforce is the foundation of success. Understanding the profound impact a positive environment can have on job satisfaction, productivity, and overall well-being, we have implemented a unique practice that sets us apart: an everyday 10-minute exercise. During this time, our team members are encouraged to step away from their desks and engage in warm-up or stretching exercises, the goal is to get their energy up and stay focused.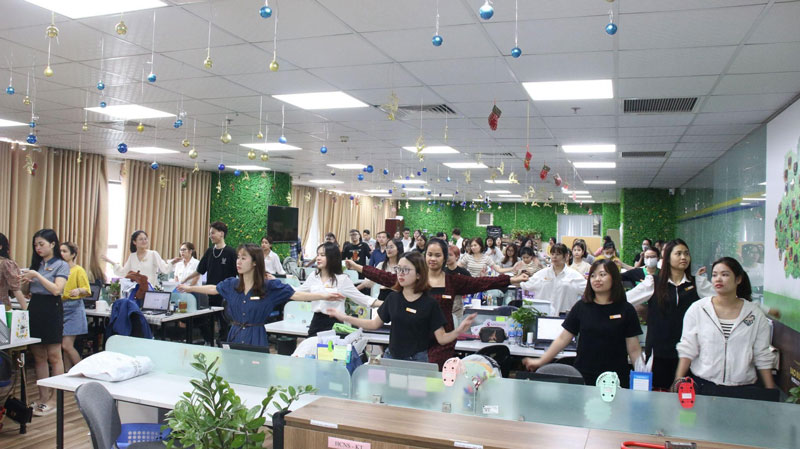 Dharma Talks: Inspiring and Motivating
Every Tuesday and Thursday, our office eagerly gathers for a cherished tradition: 15 minutes of listening to Dharma talks. These sessions serve as a welcome respite from our bustling routines, enabling us to embrace a profound sense of spirituality and enrich our souls.
Delving into a diverse array of topics, these talks provide a treasure trove of wisdom, ranging from the transformative power of mindfulness and the profound impact of compassion, to the art of cultivating gratitude and the pursuit of true wisdom. Such nourishment of our inner selves enables us to navigate our personal and professional lives with renewed purpose and inspiration.
Sharing Knowledge: Fostering a Learning Culture
At BigG office, we have various books on different topics, such as business, technology, and fiction. We believe reading is important for personal and professional development. All employees are welcome to use the bookshelf. It's a great resource for learning new skills, exploring new genres, or relaxing after work.
Moreover, we regularly organize book clubs and reading circles, where employees gather to discuss thought-provoking works and share their perspectives. These discussions provide a platform for collaborative learning, enabling diverse voices and viewpoints to come together, expand our understanding, and enrich our collective knowledge.
Training Sessions: Investing in Member Development
At the training session, employees will have the opportunity to learn and develop new skills that will help them excel in their roles. The session will cover a variety of topics, including best practices for communication, time management, and effective teamwork.
The training session will be led by experienced professionals in the company who will provide valuable insights and guidance to help employees enhance their performance. In addition, there will be interactive activities and group discussions to encourage collaboration and engagement among participants.
Team Building and Events
Every year at BigG, we get to do team-building activities, which are an important part of our corporate culture. These activities are not only a fun way to relax after work, but they also help us develop stronger relationships with our colleagues.
In addition to monthly team building, we also celebrate birthdays and organize a year-end party to bring the team together outside of the office. Our birthday parties are always a blast, with cake, balloons, and plenty of laughs.
And our year-end party is a moment of reflection, celebrating our achievements from the past year and eagerly anticipating the exciting opportunities ahead
Conclusion
BigG Hair's corporate culture serves as a foundation for success, driving innovation, fostering employee engagement, and cultivating a thriving community of professionals. It is through these principles that BigG Hair sets itself apart, creating an environment where individuals can grow, collaborate, and achieve remarkable results
See more post
Follow Us